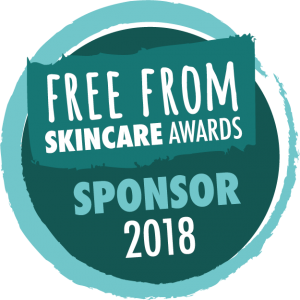 The Fresh and Fragrant category is probably the quirkiest category in the Free From Skincare Awards!
We conceived it a couple of years ago, and it developed as a result of certain products being entered into categories in which they perhaps weren't quite a perfect 'fit'. For example, deodorants would be found in the Body Care (Leave On) category, battling it out against luscious body creams. Refreshing facial spritzes were limited to the Face Care (Leave On) category, where eye creams and night serums vie competitively for the top prizes. A catch-all category for the many delightful products that keep us all fresh-feeling, fresh-scented and oh-so-fragrant was urgently needed — and so 'Fresh and Fragrant' was born. Perfumes, fragrances, eye drops, intimate care products, body scents, roll-on aromatherapy, toothpastes, mouthwashes, antiperspirants and refreshing facial toners … all are welcome in this category!
It's a testament to how successful and popular the category has become, that for the first time in its history the category has been supported — and we're delighted to introduce Lavera as the inaugural sponsors.
Lavera have been regular participants of the Free From Skincare Awards over the years, and they triumphed for their Men Sensitive Moisturing Cream in the first year of the Men's Grooming category, which was 2014.
In the UK, the German brand come under the aegis of the well-known importers and distributors of natural and organic cosmetics Pravera, who also look after such brands as Organii (another sponsor), Khadi and Benecos in the UK.
Free from petrochemicals, parabens, SLS and phthalates, Lavera products include ranges for women, men and children, and products include those for face care, body care, makeup, sun care, oral care, hair care and hand care. Functional, high-performing and affordable, you should definitely check them out.
To learn more about Lavera and to purchase their products, see the Lavera page on the Pravera website here.
To learn more about sponsorship for the Free From Skincare Awards, click here.