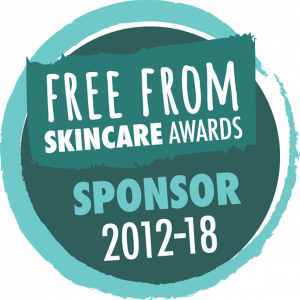 "We've always been keen to encourage upcoming brands who produce allergy-friendly lotions and potions which are ideal for children and adults alike. Supporting Family Skincare is our way of ensuring innovation continues in this vital category."
When, last year, we asked NATorigin why they have sponsored the category dedicated to babies, kids, teens, mums and mums-to-be for so many years, this is what Michelle Sutton — one-half of the husband-and-wife team behind the brand's UK presence — told us.
So we're thrilled that NATorigin are back sponsoring the category again in 2018. Michelle and husband James have been supporting our Awards since the very beginning — 2012 — and it's no exaggeration to say that we could not have done all this without them.
Our ethoses are closely aligned. Our founding principle is transparency of 'free from' attributes. While we always like to see 'free from' declarations on products, we understand that cosmetics regulations sometimes make this difficult, and make-up products have limited space to tell consumers what isn't in the formulation. Online declarations can therefore be so useful, and we don't think we've encountered one more comprehensive than NATorigin's here. If only all brands would do this, how many friends would they make in 'free from' world!
James is an optometrist; Michelle a pharmacist. Their business, Butterflies Healthcare, boasts a portfolio of products relevant to these fields, and is founded on the expertise in subjects such as sensitive eyes, skin supplements, blepharitis, sensitive skins, eye drops, contact lenses and much more, that the couple can provide.
It was while they were developing their range of products that they were approached to distribute Eye Care Cosmetics in the UK. The manufacturers in France then formulated NATorigin using the hypo-allergenic techniques that really mark them out as a 'high tolerance' cosmetics brand.
NATorigin have also been regular participants in the Awards, bagging four Silvers and a bronze over the years, for products such as their Pencil Eye Liner ("A pleasure to apply," said one tester, "a brilliant product that stood up favourably to my high-end brand eyeliners") and their Compact Face Powder ("produced a beautiful air brushed matte finish," said another).
In a nutshell: they're absolutely great, in many ways. Do check them out.
To find out more about NATorigin, see the website here.
To find out more about Butterflies Healthcare, see the website here. 
To learn more about sponsorship for the Free From Skincare Awards, click here.