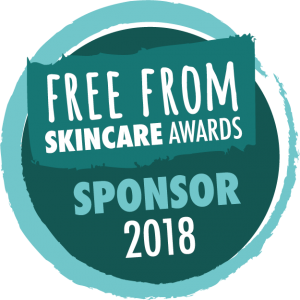 ORGANii first sponsored a category in the Free From Skincare Awards in 2016 — when they kindly supported our new Free From Achievement Award, for products free from (or almost free from) fragrances, preservatives and food allergens, an Award which was eventually won by Sukin's Supergreens Nourishing Chia Seed Oil+.
We're delighted they're back in 2018, this time sponsoring the Make up category.
Make up is a vitally important category, especially when it comes to sensitive skin and allergies, because make-up is often applied to very delicate and sensitive areas, which can introduce any problem ingredients in the products very easily to reactive parts of the body, such as the eyes or the mouth.
Skincare and cosmetic manufacturers who go the extra mile and produce make up which avoid using some of these ingredients deserve recognition and credit, and it's terrific that ORGANii our behind us in encouraging more brands to enter their 'free from' make up products for testing.

ORGANii products themselves are produced by Pravera: the well-known importers and distributors of natural and organic cosmetics, who also look after such brands as Lavera, Khadi and Benecos in the UK.
The ORGANii range includes a number of hard soaps (including fragrance free, wild rose, and lime tree, which took a Silver in the 2017 Hard Soaps category) and liquid soaps (including fragrance free, lavender, and rose), but also a good small range of sunscreens. As well as other cosmetics you might expect any decent natural brand to have — such as shower gel and moisturisers — there are also more unusual products, such as organic cotton plasters / patches and organic mouthwash. It's a very likeable brand indeed. It's affordable, and has strong certification credentials, including EcoCERT and Soil Association.
To learn more about ORGANii and to purchase their products, see their dedicated website here, or the ORGANii page on the Pravera website here. 
To learn more about sponsorship for the Free From Skincare Awards, click here.