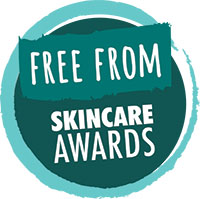 Associate sponsorship — £1,500 + VAT.
Headline sponsorship — £POA.
Benefits of associate sponsorship
The key benefits of associate sponsorship are detailed below, although we are happy to discuss alternative possible benefits.
* Brand representation at awards event with logo display, speech acknowledgement, option to present one winner.
* Social media coverage — ongoing throughout the year, across all our active channels: Instagram, Facebook, Twitter.
* Publicity / marketing — via all Awards press releases issued to media agencies, skincare press, beauty journalists, skincare bloggers and core influencers.
* Brand logo in ad column on SkinsMatter.com / Free From Skincare Awards sites.
* Revolving banner on SkinsMatter.com / Free From Skincare Awards sites.
* Awards judge — one invite to category judging day (held in June).
* Two invitations to networking and presentation event.
Headline sponsor, additional benefits
* Additional two invitations to presentation event.
* Opportunity to present winner with Overall Award.
* Headline sponsor logo.
* Judging invite on final judging day (held in June, assuming no conflict of interest)
* Bespoke additional benefits by arrangement.
If you are interested in sponsoring, please contact us.