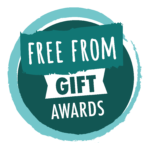 The only awards dedicated to 'free from' cosmetics and skincare products.
The 2020 Free From Gift Awards are now open for entry — deadline is 27th September 2020. Click here for details.
The Winners of the 2020 Free From Skincare Awards were announced on 21st July 2020. Click here to see the full results.
The 2021 Free From Skincare Awards will open in January 2021.

To read press coverage on the Awards, click here.
What entrants say:
'Easy to enter, well organised, good communication, great social media promotion and useful feedback.'
Ruth Romano of Ruth Romano Skincare
'I believe the Free From Skincare Awards are the most credible of all the skincare awards. The products are judged rigorously and fairly by independent testers who are not influenced in any way, other than by the performance of the product, backed up by its clear labelling.'
Wendy Stirling of Botanicals Organic Skincare
'I really am very impressed with the whole Awards process — the Free From Skincare Awards team clearly care a lot about doing a thorough and rigorous job.'
Eliza Riddell, All Natural Soap Co.
'Entrants are always made to feel special.'
Lindsay Dancaster, First Natural Brands
About the awards 
The Free From Skin Care Awards celebrate and encourage skincare manufacturers who create cosmetics that exclude some of the allergens, fragrances and other ingredients sometimes associated with skin and health issues, ethical and environmental concerns, and which some consumers may need to or want to avoid, especially if looking for more 'allergy friendly' or natural cosmetics, and struggling to find suitable products.
To learn more about our rigorous judging process, click here.
Question?
Please contact Alex.