Free From Skincare Awards Categories — 2020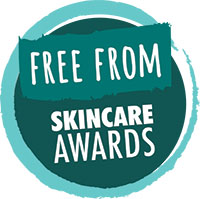 Family Skincare
Products for babies, toddlers, children, teenagers and expectant or new mums, including but not limited to baby washes, nappy balms, cradle cap oils, stretchmark creams, nipple balms, kids' lotions, teenage products, and other skincare products aimed at the family market.
Men's Grooming
Products for any part of the body, either unisex or targeted at men / within a male grooming range, including but not limited to face / body washes, face / body creams, shaving creams / gels, deodorants, haircare products and after-shave lotions.
Hair Care
Shampoos, conditioners, hair gels, hair treatment serums, hair colours and other hair care products.
Body Care ('Leave On')
Creams, gels or balms for use on the body, including body creams, moisturisers, lotions and tanning products.
Body Oils 
All oils for the body — bath oils, massage oils, moisturising body oils.
Body Care ('Rinse Off')
Cleaning skincare products for the body, such as body scrubs, shower gels and liquid soaps, which are applied and then removed or washed off.
Eye Care
Eye creams, eye gels, eye liners, eye oils, eyeshadows, and mascaras.
Hand, Foot and Nail Care
Hand washes, liquid hand soaps, hand creams, foot creams, foot scrubs, nail polish removers, nail varnish and cuticle care products.
Hard Soaps
Bars of soap, for face and/or body.
Lip Care
Any products for lips, including lipstick, lip balms / moisturising or protecting products for the lips, lip scrubs, and products for chapped lips.
Face Care ('Leave On')
Creams and balms for use on the face, including anti-ageing creams, night or day creams, all-purpose moisturisers, water-containing serums, plus tinted moisturisers, facial make-up such as blusher or foundation.
Face Oils ('Leave On')
100% oil blends or oil-based and water-free serums for the face.
Face Care ('Rinse Off')
Facial cleaning products such as masks, cleansers, cleansing oils, washes, scrubs, and make-up removal wipes, which are applied and then removed or washed off from the face.
'Fresh and Fragrant'
Any cosmetic product used to 'freshen up' or 'fragrance' the body or skin, including, but not necessarily limited to, oral care products (toothpastes, mouthwashes), fragrances, perfumes and scents, deodorants and anti-perspirants, intimate skincare products (wipes, washes), facial spritzers and refreshing wipes.
Problem Skin 
Any skincare product designed to offer relief or be suitable for eczema, dermatitis, psoriasis, acne, rosacea or other allergic, sensitive or problem skin condition (chafing, sores, tattoos, itching etc).
* FreeFrom Achievement Award
A special award for a skincare product with particularly exceptional free from qualities — which is perhaps very low in or free from preservatives, food allergens and fragrances — or meets a particular need in skincare for consumers with skin allergies. A winner and perhaps up to two runners-up will be chosen from the Shortlisted products in categories 1-15.
* Best FreeFrom Skincare Brand
Any skincare manufacturer entering a total of three or more of its products across categories 1-15 of the Awards will be automatically considered for this category. (NB. Judges may request additional samples of non-entered products at a later date in order to make their overall assessments.)
* Best Overall FreeFrom Skincare Product
The overall winner will be drawn from the winners of the product categories (1–15) above.