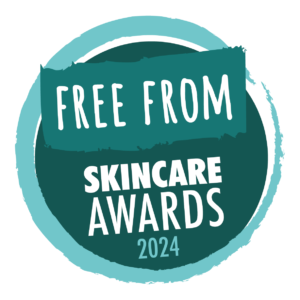 Only individual cosmetic skincare and haircare products are accepted into the Free From Skincare Awards.
NB. We do not accept cosmetic tools / gadgets, dietary / oral supplements, muscle-care, oral care or sun care products. See Criteria & Rules for a full list of excluded products.
The product categories for 2024 are as follows:
Family Skincare
Cosmetic products for babies, toddlers, children, teenagers and expectant or new mums, including but not limited to baby washes, nappy balms, cradle cap oils, stretchmark creams, nipple balms, kids' lotions, teenage products, and other skincare products aimed at the family market or suitable for all the family.
Men's Grooming
Products for any part of the body, whether unisex or designed specifically for men, including but not limited to face / body washes, face / body creams, shaving creams / gels, deodorants, beard oils, beard balms, haircare products and after-shave lotions.
Hair Care
Shampoos and shampoo bars, conditioners and conditioner bars, hair gels, hair treatment serums / masks, hair colours and other hair care products.
Body Care ('Leave On')
Creams, gels or balms for use on the body, including body creams, moisturisers, lotions and tanning products.
Body & Bath Oils 
All oils for the body — bath oils, massage oils, moisturising body oils.
Body Care ('Rinse Off')
Cleaning or bathing skincare products for the body, such as body scrubs and shower gels / washes — as well as bath salts / bath infusions, bath milks, and bath bombs.
Eye Care
Eye creams, eye gels, eye liners, eyelash oils, eyeshadows, eyebrow products, mascaras.
Hand, Foot and Nail Care
Hand washes, liquid hand soaps, hand creams, foot creams, foot scrubs, nail polish removers, nail varnish and cuticle care products.
Soap Bars
Bars of soap, for face and/or body.
Lip Care
Any products for lips, including lipstick, lip balms / moisturising or protecting products for the lips, lip scrubs, and products for chapped lips.
Toners, Mists and Waters
Facial toners, micellar waters, facial mists, facial spritzes and flower waters.
Face Care ('Leave On')
Creams and balms for use on the face, including anti-ageing creams, night or day creams, all-purpose moisturisers, face balms, water-containing serums, plus tinted moisturisers, facial make-up such as blusher or foundation.
Face Oils ('Leave On')
100% liquid oil blends or oil-based and water-free serums for the face.
Face Care ('Rinse Off')
Facial cleaning products such as masks, cleansers, cleansing oils, washes, scrubs, and make-up removal wipes, which are applied and then removed or washed off from the face.
Deodorants
Under-arm deodorants.
Problem Skin 
Any skincare product also suitable for consumers with eczema, dermatitis, psoriasis, acne, rosacea or other allergic, sensitive or problem skin condition (chafing, sores, tattoos, itching, dry skin etc).
Special Awards
* Free From Achievement Award
Brands may enter this additional Award with any of the products they submit in any of the categories 1–16 above. This special Award celebrates products with particularly strong free from or 'hypoallergenic' qualities — which are perhaps very low in or free from preservatives, food allergens and fragrances — or which meet a particular need in skincare for consumers with skin allergies or ultra-sensitive skin, or who have to avoid multiple ingredients.
* Best Labelling Award
This category was launched in 2022 to reward brands / products which demonstrate excellence in labelling — ie in communicating ingredients, instructions for use, suitability (eg skin type / age), allergen guidance / 'free from' statements (if used) and other key information. Judges look for legibility, simplicity and clarity, and for labelling which enables consumers to easily choose and use products suitable for them.
* Digital Presence Award
This was a new Award last year, launched to reward brands with exceptional websites / online stores, and social media accounts. Judges will be looking for digital presences which are easy and pleasurable to navigate, intuitive, attractive, and informative, and which boast other features important to consumers with 'free from' skincare requirements, such as effective search functions and clear declarations of ingredients. Credit will also be given to brands whose social media channels demonstrate strong, genuine interaction and engaging content.
* Best Free From Skincare Brand Award
Brands entering this Award will be judged on many qualities — their brand ethos, the breadth of products, 'free from' qualities, web and social media presence, performance of submitted products, eco / green / sustainability attributes, and any others applicable to the whole brand.
* Best Overall Free From Skincare Product
The overall 'winner of winners' and champion of the Free From Skincare Awards 2023 will be chosen, by a specially selected judging panel, from the Gold winners of the product categories (1–16) above.