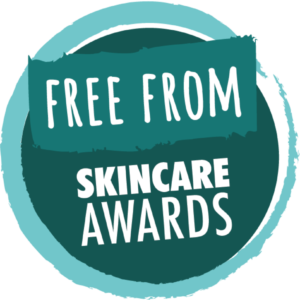 The following represent some of the most common questions we are asked.
For a full explanation of the awards process, begin at How to Enter.
What are the Free From Skincare Awards?
The awards were launched in 2012 to celebrate, encourage and reward the manufacture of cosmetics that are 'free from' some of the allergens, ingredients and fragrances sometimes associated with skin sensitivities and other health concerns, or personal sensibilities and preferences, and which may therefore be useful to several groups of people — those seeking more 'natural' cosmetics, those looking to avoid certain ingredients due to ethical, environmental or religious reasons, those who have sensitive or dry skin, or those with allergic or problem skin conditions such as contact dermatitis, eczema, psoriasis, rosacea and acne.
What are the entry fees?
2023 fees are as follows:
£175 / £140 per product entry per category. (Very small brands are entitled to the lower fee.)
There are small additional fees of £30 / £24 for optional further participation in the Free From Labelling Award, the Digital Presence Award, and to enter the special Free From Achievement Award.
An overall 10% discount is offered to all brands for 'early bird' entry (within three weeks of the Awards opening).
There is no charge to enter the Best Free From Brand Award, although three product entries are required.
VAT is not charged.
NB. There is NO further charge at any later stage of the Awards.
What will testers and judges be looking for?
This is explained on our Judging page.
How many product samples must I send for each entry?
In almost all cases we require six product samples, which must be retail-ready products, as sold to the consumer, in the size specified on your entry forms. The main exceptions are single-use products, such as bath bombs or sheet masks, where we will probably require 20–25.
'Mock up' or tester samples are not acceptable.
How many products can I enter and in how many categories?
Entrants can enter as many products as they wish in as many categories.
An individual product may be entered into more than one category, if relevant, but the appropriate entry fees and sample requirements apply to each. For example, a hand & body cream entered into both the Body Care (Leave on) and Hand, Nail & Foot Care categories will require two entry fees and 12 product samples.
Previously entered products — whether winning or not — may be entered again.
Products do not need to be new launches, but must simply be on the market at the time the Awards close for entry.
Products of the same nature but with different fragrance are considered distinct formulations and must be entered separately, with an entry submitted and paid for in each case.
Products of the same nature but with different colour (eg make-up, hair dye), are not generally considered distinct formulations.
To see the various categories, click here.
What benefits are there in entering the awards?
You can find the main ones listed at our Benefits of Entry page.
How many entries make the Final?
We do not have a set number or percentage of entries to reach the final shortlist, and each individual product is assessed on its own merit. Generally speaking, if the product performs broadly positively with at least three out of the four testers during its month-long testing, it will be make the Final.
On average, around 75% of entries are finalists each year, but it varies.
How many medals are awarded?
Again, this varies each year, and according to product performance and judging panels' assessments.
Generally, only one Gold is awarded in each product category each year — although two Golds are awarded either when judges and testers have been unable to separate two products and consider both products are deserving, or when a category is particularly large.
Generally, several Silvers and several Bronzes are awarded in each category, again according to merit. The smaller categories are likely to have fewer than the larger categories.
Typically around 40–50% of the products which reach the final win a medal, but it can vary by category.
There are additional awards for Free From Achievement, Best Labelling, Digital Presence and Best Free From Brand — as well as the Best Free From Product for 2024 prize for the Overall Champion.
Do small brands stand a chance against bigger brands?
They more than stand a chance — they have just as much of a chance!
It's important to us that we make the Awards as level a playing field as possible. We favour no brand over any other, and each product is tested and judged on its own merits, with our testers and judged briefed to be as impartial as they can be.
Perhaps the best indication that smaller brands can and do win in our Awards is to spend time looking through our past winners (2012–23). You will find many 'one-woman' (or -man) brands rubbing shoulders successfully with bigger names such as Green People, Weleda, Neal's Yard Remedies and Tropic Skincare. In 2018, such a small brand — Harborist — triumphed, winning the overall award for Best Free From Product, and it wasn't the first time it had happened. Plenty of category Golds have been won by small brands too!
What makes your Awards stand out?
We are transparent in what we do — many other Awards do not reveal details of how products are assessed, how decisions are made, the people involved in the Awards, or how many awards are given out.
We give equal weight to consumer testing as we do to judges' expert input — it is vital that we rigorously assess how well products perform with the 'ordinary' woman (and man) who buys cosmetics, as well as seek the views of formulators and others from the beauty industry on matters concerning ingredients, formulation, compliance and more.
We do not have voting — we think public voting is deeply unfair to smaller brands who have a far more limited social media following than larger brands whose products may be far more widely distributed, and who can reach a wider base. Being bigger and louder does not necessarily mean better or more deserving.
There are no hidden costs — The entry fee is all you pay. We do not try to sell you advertising, we don't charge for logo use, we don't reward brands who spend more with us. All brands are treated equally at all stages of the Awards.
We don't 'dish out' Awards — It would be easy to award a high percentage of entries in order to encourage further participation, but this would demean the awards industry and patronise entrants, which we consider unacceptable. Awards should not be too easy to win; neither should they be unattainably difficult. We aim to strike a fair, achievable balance, to give the top awards to the most deserving, which both encourages and supports brands and helps the consumer to choose the most suitable products for them.
We see ourselves more as a skincare award than a beauty award — although 'beauty' is important, the health of the skin (and hair) is to us even more so, and that underpins our approach in what we do.
Why do you have Sponsors?
We sometimes have sponsors, but they do not influence the outcome of the Awards unless a member of the sponsoring brand sits on the judging panel, in which case they will not be involved in judging a category in which they are also an entrant or have a vested interest. For example, 2020 sponsors Lyonsleaf did not participate in the Awards as entrants.
Sponsors offer us moral and financial support, the latter of which helps us keep costs down, and therefore making us more accessible to the small brands we hope to encourage to participate.
We do not consider sponsorship a 'good' nor 'bad' thing — what matters is the integrity of the sponsor (we only accept Sponsors who share our values), and the integrity of the Award protocols, as described above.
Who runs the awards?
Alex Gazzola, Awards Co-ordinator and Co-director
Alex is a writer specialising in allergies, food intolerances and sensitivities. He is the editor of Allergy Insight and MI Free, and the author of ten books, including The Metal Allergy Guide, and Coeliac Disease: what you need to know.
Michelle Berriedale-Johnson, Free From Awards Director
Michelle is Founder / Chair of the hugely successful Free From Food Awards, now in their fifteenth year, and the author of many recipe books, including many for restricted diets such as gluten-free and/or dairy-free.
Who should I contact with an enquiry about the Awards?
See our Contact page. If you wish to set up a call with Alex or Michelle, contact us by email. We are always happy to talk.