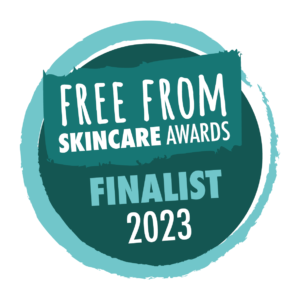 We are delighted to reveal the full list of Finalists for the Free From Skincare Awards 2023, announced on 10th May 2023.
Winners will be announced on 13th June 2023 through our Twitter and Instagram accounts. (A detailed schedule of announcements will be shared on our social media accounts in early June.)
Category 1, Family Skincare
Balmonds Skincare, Skin Salvation
Beeinspired, Happy Nappy Cream Nut Free With Calendula
Belicious Natural Products, Calendula Face & Body Balm With May Chang
Caprea, Essentials pH Balancing Cleanser
Conscious Skincare Ltd, Neutralize Day Cream For Oily, Problem Skin
Dr.Lipp, ALLWAYS All-Over Daily Wash
Dr.Lipp, BEFORE N'AFTER All-Over Daily Lotion
Elave Skincare, Elave Baby Bath
Lily & Rabbit, Bee Naked
Lily & Rabbit, Lavender Baby
Lyonsleaf, Pure Baby Balm
OliPhenolia, Nourishing Cream
Pestle & Mortar, Essentials The Body Cream
Weleda, Stretch Mark Body Butter
Category 2, Men's Grooming
Amphora Aromatics, Organic For Men Face Serum
Esker Fields, Soothing Aftershave Balm
Palm Free Zero-Waste Irish Soap Ltd, Solid Sport Deodorant Bar
SUK., Powder Cleanser
Sukin, Facial Moisturiser For Men
Category 3, Hair Care
Battle Green, Orange & Neroli Natural Dry Shampoo
Friendly Soap, Peppermint & Eucalyptus Conditioner Bar
Hairy Jayne, Herbal Shampoo Bar
Hairy Jayne, Natural Beauty Oil
Lathered, Lathered – Frequent Wash
Odylique, Prebiotic, Chamomile & Coconut Conditioner
OliPhenolia, Shampoo
Raw Roop, Taming Medusa
Skinutritional®, Hair And Scalp Treatment Oil
The Wild Nettle Co, Nettle Hair & Scalp Oil
Category 4, Body Care (Leave On)
Annwyn Botanicals Ltd, Hydrating Hand & Body Lotion With Wild Mint & Nettle
Awake Organics, Dry Patches – Soothing Intensive Balm
Belicious Natural Products, Mulberry Leaf & Calendula Face & Body Brightening Moisturiser
Brooke & Shoals Wellness, Aromatherapy Relax & Restore Body Cream
Chantic Home, Solid Body Lotion Bar Geranium Rosemary & Chamomile
Eco By Sonya Driver, Hempitan
Freya Natural Therapy, Destress Yourself Body Lotion
Heather's Hands, Bergamot, Sweet Orange & Ylang Whipped Body Butter
Pure Lakes Skincare, Sweet Basil & Orange Hand & Body Lotion
Rhug Wild Beauty, Nourishing Body Cream With Marshmallow Root & Lemon Balm
SkincareBOOtique, Natural Mango And Lime Nourishing Body And Heel Butter
The Bleating Goat, Goats Milk Moisturising Cream
Category 5, Body and Bath Oils
ANI Skincare, Rose & Geranium Body Oil
Blumáin Organic Skincare, Serenity Body Oil
Botanica Nordica, Summer Chic Organic Luxury Oil Blend
Dublin Herbalists, Body Oil
The Good Zest Company, Anxiety And Sleep Formula (Bath Oil)
Category 6, Body Care (Rinse Off)
AK Pure Skin, Body Scrub
Blumáin Organic Skincare, Mandarin & Himalayan Salt Scrub
Butter Be Kind, What A Peeling
Duxmore Botanics, Indulgent Body Scrub
Freya Natural Therapy, Exotic Citrus Shower Gel
Jaya®, Prebiotic Multi- Exfoliating Charcoal Body Scrub
Lucy Litchfield, Uplift & Revitalise Botanical Bath Bomb
Mothersage, Bath Salts
Plantopia, Detox & Purify Smooth & Sweep Body Scrub
Rhug Wild Beauty, Exfoliating Body Scrub With Rosemary & Rhug Honey
Senspa, Relaxing Body Wash
Wildmint Cosmetics, For Down There. Probiotic Superfood Intimate Wash
Ziaja, Natural Care Shower Gel
Category 7, Eye Care
Amphora Aromatics, Organic & Natural Fix All Eye Cream
Biorythme, Window To The Soul, Natural Bi-Phase Eye Remover
La Femme Verte, Sea Buckthorn Joyous Eye Serum
Rhug Wild Beauty, Nourishing Eye Cream With Elderflower
Solo Skin London, Eye Oil
Witchcraft Botanicals, Peptide Brightening Eye Cream
Category 8, Hand, Foot and Nail Care
Beeinspired, Gardener's Hand Cream
Esker Fields, Moisturising Handcream
Esker Fields, Lavender & Peppermint Footcream
Etide, Intensive Hand Cream
Kiss The Moon, Love Night Cream For Hands
Laponie Of Scandinavia, Hand Cream Concentrate
Lyonsleaf, Foot Balm
Olifani, Unscented Cuticle Oil
Ziaja, Natural Care Line Hand Cream
Category 9, Soap Bars
Bloom In Soap, Wild Herb & Oatmeal Soap
Coraline Skincare, Calming Chamomile – Organic Chamomile And Yarrow Soap Bar
Friendly Soap, Ylang Ylang Natural Soap Bar
Kenderdine Aromatics, Geranium Handmade Soap Enriched With Wild Rose
Lucy Litchfield, Nettle & Mint Goats Milk Soap
North Devon Soap, Ocean Shore Soap Bar
Oir Soap, Rosemary, Ho Leaf And Geranium Hand And Body Soap
Olifani, Peppermint Salt Spa Bar
Olifani, Peppermint Soap
Olifani, Unscented Salt Spa Bar
Palm Free Zero-Waste Irish Soap Ltd, Balance & Harmony Soap Bar
Picobello Soap, Lemon & Lavender Soap
Soap And Anchor, Sea Swimmers Handcrafted Soap
The Bleating Goat, Unfragranced Goats Milk Soap
The Eco Stall Ltd, Creamy Dreamy Soap Bar
The Eco Stall Ltd, The Naked Bar
The Wild Nettle Co, Nettle Soap
Todburn Soaps, Rosemary & Mint Goats Milk Soap
Vanilla And Wild, Earth Mother Soap
White Cauldron Co., Chamomile, Calendula & Honey
Category 10, Lip Care
Cuckmere Organics, Beeswax Peppermint Lip Balm
Flowery Whiff, Brightening & Renewal Lip Treatment
Rebs, Kokos
Rhug Wild Beauty, Moisturising Lip Treatment With Rhug Beeswax
Sknfed, Shea Butter Lip Balm With Mango And Avocado
Uoga Uoga, Nourishing Lip Gloss Foxberry
Category 11, Toners, Waters and Spritzes
AEOS, Refreshing Hydrating Mist
Blur London, Rebalancing Toner
Casa Mencarelli, Honey & Orange Toner – Acqua Di Miele
Lykkegaard Care, Micellar 3in1 Face Tonic
Rhug Wild Beauty, Rebalancing Skin Tonic With Meadowsweet
Witchcraft Botanicals, Toning Liquorice Micellar Mist
Category 12, Face Care (Leave On)
AEOS, TLC Renewal Face Cream
AK Pure Skin, Face Tan Water
AK Pure Skin, Hydrating Serum
Beeinspired, Age Embracing Face Cream
Botanica Nordica, Hydrating Multi-Active Face Essence
Caprea, Essentials Probiotic Sleeping Mask
Elave Skincare, Elave Daily Skin Defence SPF45 No.108
Green People, Nordic Roots Truffle Night Cream
INIKA Organic, Kakadu Plum Vitamin C Booster
Just Be Natural, Simply Nourish Face Moisturiser
Just Be Natural, Nourish Citrus Face Moisturiser
JUSTE NATURE, Ylang Ylang Cleanse and Nourish Multi Purpose Face Balm
Living Nature, Daily Protect Facial Lotion SPF 20
LUMI, Iconic Well-Aging Treatment
Lykkegaard Care, Age Gracefully Hylaronic Acid Power Cream
Nagora, Peony-Hyaluron Booster Daytime Serum
Natural Little Bee, Luminous Facial Serum
Nude Goose, Skin Boost Face Cream
Nyrah, Glisten Superfood Peptide Serum
Odylique, Prebiotic Rich Hydration Cream
OF NATURE, The Day Cream
OliPhenolia, Intensive Serum
Rhug Wild Beauty, Restorative Overnight Cream With Evening Primrose
Seoulista Beauty®, Seoulista Correct & Calm Instant Facial®
Sknfed, Face Moisturiser Rose
Smartass Beauty Ltd, Time Bomb Multi-Peptide Serum
Tiger Lillies Skin Food, Under The Sea- Face Cream
Weleda, Skin Food Nourishing Day Cream
Category 13, Face Oils (Leave On)
AK Pure Skin, Face Oil Serum
Amphora Aromatics, Organic & Natural Face Elixir
Away With Nature, Golden Facial Oil
BARE MOO, Glow Complexion – Boosting Face Oil
Botanica Nordica, I'm Unique Silky Facial Elixir
Coraline Skincare, You Must Be Sisters – Collagen And Ceramides Boosting Facial Oil
Eizun Eco Skin, Vital Face Serum / Oil
INIKA Organic, Phyto-Active Face Oil
Kinvara Skincare, Precious Facial Oil
Kiss The Moon, Love Night-Time Face Oil
Naturally Matters, Simplicity Face Oil No2
Nyrah, Transform Bio-Retinol + Bakuchiol Serum
Organicules, Youth Boost – Facial Oil – Bakuchiol + Coenzyme Q10
Re:Treat Apothecary, Natural Face Oil
Rhug Wild Beauty, Protecting Facial Oil With Bakuchiol
Sun Reay, Sunshine Serum
Tiger Lillies Skin Food, Up The Anti – Face Elixir
Zen + Soul Studio, Nordic Glow Organic Face Oil
Category 14, Face Care (Rinse Off)
AEOS, Cleansing Oil Dé-Maq
AK Pure Skin, Face Gel Scrub
AK Pure Skin, Face Gel Mask
Annwyn Botanicals Ltd, Gentle Cleanser And Make Up Remover
BARE MOO, Deep Pore Organic Cleansing Oil
Beyond Organic Skincare, Detoxifying Cleanser – Lemon
Blathana Herbal Cosmetics, Cleansing Balm – Lavender + Lemon
Blur London, Everyday Cleanser
Flânerie Skincare, Purifying Green Clay Mask
Formulae Prescott, Tri-Balm
Husk & Seed Skincare, Gently Nourishing Cleansing Balm
Laponie Of Scandinavia, Nourishing Oil Cleanser
LUMI, Tundra AHA-BHA Cleansing Milk
Lykkegaard Care, Refreshing Facial Cleansing Foam
Nude Goose, Radiance Cleansing Balm
Organicules, Nourished-Cleansing Balm- Balm To Milk Cleanser
Raw Roop, From The Deep
Rhug Wild Beauty, Deep Cleansing Balm With Wild Berries
The Eco Stall Ltd, The Facial Bar Soap
Tiger Lillies Skin Food, Divine Duo Be Mine- Face Cleanser
Weleda, Skin Food Cleanser
Category 15, Deodorants
Cacao Pow Deo Bar, Rose Choc
Flowery Whiff, Rose Frankincense & Myrrh Vegan Deodorant Stick
Kutis Skincare, Bergamot & Sage Vegan Deodorant
Kutis Skincare, Grapefruit & Mandarin Bicarb Free Deodorant
Organicules, Natural Deodorant Unscented
Re:Treat Apothecary, Natural Deodorant – Patchouli + Geranium
Rose And Mary Cosmetics, Citrus Kiss Natural Deodorant
Category 16, Problem Skin
Amaranthine, Face Oil
Ann's Natural Range, Moisturiser N
Balmonds Skincare, Skin Salvation
Beeinspired, Propolis Cream Nut Free
Butter Be Kind, Your Hero, Baby
Casa Mencarelli, Sea Buckthorn Serum – Sole E Mare
Casa Mencarelli, Sea Buckthorn Balm – Bellissima
Eco By Sonya Driver, Serum Of Clear
INIKA Organic, Bakuchiol Serum Natural Retinol Alternative
Jeunvie Natural Skincare, Soothing Balm
Labrains, Dermatreat Skin Regenerating Cream
LUMI, Pimple Stopper
Lyonsleaf, Zinc And Calendula Cream
Lyonsleaf, Calendula And Marshmallow Balm
Nude Goose, Calming Balm
Obvs Skincare, Intensive Skin Recovery Cream
Odylique, Repair Lotion
Raven Botanicals, Rescue Serum
Smartass Beauty Ltd, Wrinkle Rewind Super Serum +
The Wild Nettle Co, Nettle Cream – Sensitive
Todburn Soaps, Plum & Argan Beauty Balm
Yan-Yee Skincare, Calming Spray
Special Awards:
Free From Achievement
Due to the large number of entries into the Free From Achievement category, no list of finalists is published, and all entrants' products reaching the final in one of the categories (1–16) above which were additionally entered into the Free From Achievement category will be considered for this Award.
Best Labelling
AK Pure Skin
Amphora Aromatics
ANNWYN Botanicals Ltd
Balmonds Skincare
BARE MOO
BeeInspired
Blur London
Botanica Nordica
Etide
Flowery Whiff
INIKA Organic
JUSTE NATURE
Nude Goose
Oir Soap
Olifani
SkincareBOOtique
Sun Reay
The Wild Nettle Co
Best Digital Presence
AK Pure Skin
Amphora Aromatics
Balmonds Skincare
Blumáin Organic Skincare
Blur London
Butter Be Kind
Elave Skincare
LUMI
Olifani
Raven Botanicals
SENSPA
SkincareBOOtique
Sun Reay
The Bleating Goat
The Wild Nettle Co
WildMint Cosmetics
Yan-Yee Skincare
Best Free From Brand
AEOS
AK Pure Skin
Amphora Aromatics
BeeInspired
Botanica Nordica
Casa Mencarelli
Esker Fields
INIKA Organic
LUMI
Lykkegaard Care
Lyonsleaf
Nude Goose
Odylique
Olifani
OliPhenolia
Organicules
Rhug Wild Beauty
The Eco Stall Ltd
The Wild Nettle Co
Tiger Lillies skin food
Weleda
Best Overall Free From Product
One overall champion of the Free From Skincare Awards 2023 will be judged and chosen from all the Gold winners in Categories 1–16 above; we will also announce four or five runners-up.