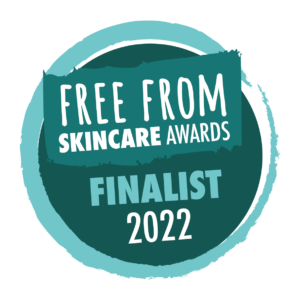 We are delighted to reveal the full list of Finalists for the Free From Skincare Awards 2022, announced on 5th July 2022.
Winners will be announced on 19th July 2022 through our Twitter and Instagram accounts. (For a detailed schedule of announcements, see this Instagram post or our pinned post on Twitter.)
Category 1, Family Skincare
Belicious Natural Products, Calendula Baby Balm
BISOUS by L'Organiq, Clear Spot Treatment Gel
Bodyenrich, Stretch Mark Oil
Coraline Skincare, Saving Grace – Repair & Replenish Body Balm
Hemptouch, Gentle Baby Balm
LUMI, LA-LAA Baby Oil
Lyonsleaf, Calendula and Marshmallow Balm
MamaBare, MamaBalm
Obvs Skincare, Organic Balm
Category 2, Men's Grooming
Balade en Provence, Solid Face and Eye Cream for Men
LUMI, MEN Aftershave Toner
Natural Barber Co., Zeus Pomade
Palm Free (Zero-Waste) Irish Soap Ltd, Thyme Travel Shampoo Shaving and Body Bar
SCRUBD, Amber Musk and Sweet Leather Soap
SK:INvestMENt, Face and Beard Oil
So27skincare, Jimbob's Beard Balm
THEODORE London, The Tudor Rose York
Category 3, Hair Care
Ayumi Naturals, Pure Castor Oil
Bare, Caffeine Shampoo Bar
Hairy Jayne, Herbal Shampoo Bar
ħanini skincare, Hair, Roots + Scalp Oil Strengthening
KIND2, The Fragrance Free One – Solid Conditioner Bar
LUMI, Flirt Hyaluronic Acid Hair-Spritzer
Madres, Solid Shampoo Bar Love
Odylique, Prebiotic, Chamomile & Coconut Conditioner
Palm Free (Zero-Waste) Irish Soap Ltd, TLC Shampoo Bar
Palm Free (Zero-Waste) Irish Soap Ltd, TLC Conditioner Bar
Sukin, Deep Cleanse Shampoo
The Good Zest Company, Organic Lime Hair Oil
The Good Zest Company, Lime Shampoo
Category 4, Body Care (Leave On)
B&W:THECOLLECTION, Lavender & Bergamot Body Butter
Bettyhula, The Secret Wonder Balm
Copper Coast Natural Skincare, Frankincense & Bergamot Whipped Body Butter
FIERCE, The FIERCE Intimate Cream
Kiss the Moon, GLOW Night-time Body Cream
Pevonia, Crepe-No-More Body Cream
Rhug Wild Beauty, Nourishing Body Cream with Marshmallow Root & Lemon Balm
SENSPA, Relaxing Talc Free Body Powder
Spardha's Natural, Intense Hydration Face and Body Moisturiser
Todburn Soaps, Lime and Patchouli Shea Body Butter
Category 5, Body and Bath Oils
ANI Skincare, Frankincense & Sandalwood Body Oil
Ayumi Naturals, Tranquillity Massage Bath & Body Oil
Bathletic, Bath Oil
Blumáin Organic Skincare, Serenity Body Oil
LUMI, Natural High Orgasm Drops
MotherSage, Body Oil
Category 6, Body Care (Rinse Off)
ANI Skincare, Renewal Body Polish
Bathe Botanicals, Bath Milk
Hedgewild, Sea Salt Scrub
Oak and Stone Organics, Activating Face + Body Polish
Rhug Wild Beauty, Exfoliating Body Scrub with Rosemary & Rhug Honey
SKINIRI London, Coco Salts
Soak in the Elements, Unwind Himalayan Salt Body Scrub
Spritzy Limited, Geranium, Pine & Rosemary Soap
The Blue Lemon, Lemongrass Foaming Hand & Body Wash
The Good Zest Company, Lime Body Wash
Category 7, Eye Care
Botanica Nordica, Firm & Lift Refreshing Eye Cream
Dublin Herbalists, Elevating Eye Cream With Eyebright & Co-Enzyme Q10
éméo, BLINK
JustBe Botanicals, Radiant Eye Cream
Meadows- pure skin care fresh from the farm, Eye Oil-  for Sensitive Eyes
Sukin, Purely Ageless Reviving Eye Cream
TARAMAR, Eye Treatment
Uoga Uoga, Mascara – No Drama No Fun
Category 8, Hand, Foot and Nail Care
Balm Natural, Wild Mint and Tea Tree Foot Balm
Be Natural, Heel Balm
Bee Cosmetics, Foot Reviving Balm
Beyond Organic Skincare, Organic Replenishing Hand Cream
Dublin Herbalists, Enriching Hand Cream With Lemongrass & Bergamot
Freya Natural Therapy, Uplifting Exotic Citrus Hand Lotion
MamaBare, Hand Rescue – Lemongrass and Lavender
Organic Works, Lavender Hand Wash
Pure Lakes Skincare, Tea Tree, Rosemary & Geranium Foot Gel
The Blue Lemon, Unfragranced Foot Balm
Category 9, Soap Bars
Apothecary64, Lemon + Rosemary Soap
BEAM natural body care, Naked
BEAM natural body care, Sunshine
Bees and Botanicals, Lavender Milk Soap
Cocoa Avenue, Rose & Lavender
Coraline Skincare, Rosy Radiance – Organic Rose Geranium Soap Bar
ħanini skincare, Creativity + Expression Soap
Kenderdine Aromatics, Citrus Spice Artisan Soap Bar
Lily & Rabbit, Lime & Coconut
Palm Free (Zero-Waste) Irish Soap Ltd, Lavender Soap
SmartAss Beauty Ltd, White Gold Luxury Cream Cleansing Bar
The Moher Soap Co., Burren Meadow
The Naked Herb Soaps, Lemongrass & Nettle Soap
The Vegan Soap Company London, Rose & Geranium Soap
Todburn Soaps, The Fragrant Fox – Goats Milk Soap
Todburn Soaps, Uplifting – Goats Milk Soap
Zenoté Handmade, Coffee & Cacao Soap
Zenoté Handmade, Organic Oat Milk Soap
Category 10, Lip Care
Be Natural, Lip Balm
Bees and Botanicals, Chamomile Honey Lip Balm
Dublin Herbalists, Sweet Orange Lip Balm With Beeswax and Shea Nut Butter
English Mineral Makeup, Lip Massive Moisture Drench
Odylique, Organic Mineral Lipstick #15 – Praline
Palm Free (Zero-Waste) Irish Soap Ltd, Organic Moisurising Lip Balm
Rhug Wild Beauty, Moisturising Lip Treatment with Rhug Beeswax
Uoga Uoga, Lip and Cheek – Gorgeous
We Love the Planet, Velvet Daily Lip Balm
Category 11, Toners, Waters and Spritzes
ANI Skincare, Hydrating Facial Toner
Blumáin Organic Skincare, AHA Tonic
Eco By Sonya Driver, Super Fruit Toner
Heritage Store, Rosewater & Glycerin
INIKA Organic, Hydrating Toning Mist
LUMI, Nudist Hyaluronic Acid Body Serum
MotherEarth's Beauty, Prebiotic Mist
Pevonia, Phyto-Aromatic Mist
Poko, Brightening Rosewater Toner
Rhug Wild Beauty, Rebalancing Skin Tonic with Meadowsweet
Sukin, Micellar Cleansing Water
Category 12, Face Care (Leave On)
ALBIVA, Hydration Booster Cold Processed
Botanica Nordica, Collagen Booster Ultra Rich Cream
Dublin Herbalists, Regenerating Night Cream With Açai Berry Oil & Co-Enzyme Q10
FIERCE, The FIERCE Infusion
From the Hive, Nourishing Facial Balm
InnerZen Organics, Smoothing Day Cream
Just Be Natural, Simply Nourish Face Moisturiser
Kalōnology Responsible Skin Care, Advanced Vitamin C Serum
Kalōnology Responsible Skin Care, Advanced Skin Recovery Serum
LaFemmeVerte, Radiance Day Cream
Laponie of Scandinavia, 2-in-1 Hydrating Face Mask & Cream
MERME Berlin, Facial Collagen Serum – 100% Vegan Collagen
Nourish London, Skin Protecting Daily Moisturiser SPF25
Obvs Skincare, Organic Moisturiser – Naked
PAMOJA, Replenish Hydrating Serum
Poko, Soothing Serum
Rhug Wild Beauty, Protecting Day Cream with Blue Tansy Oil
Skin Sapiens, Glow Facial Serum
So27skincare, Rewind Day Cream
Sukin, Facial Moisturiser
TARAMAR, Day Treatment
Category 13, Face Oils (Leave On)
ANI Skincare, Rose & Geranium Face Oil
Aura Organics, Super Berry Booster Oil
Bare, Hydrating Facial Oil
Bee Cosmetics, Organic Frankincense & Rose Facial Serum
Coraline Skincare, You Must Be Sisters – Collagen And Ceramide Boosting Facial Oil
Deborah Neill Handmade Skincare, Bloom Serum
Duxmore Botanics, Indulgent Face & Body Oil
Eco By Sonya Driver, Glory Oil
Glow Skincare, Morning Zen
Holistic Kitchen, Skin Glow Face Elixir
HONEY CORN, Elemi & Frankincense Anti-Ageing Serum
Kinvara Skincare, Precious Facial Oil
Laponie of Scandinavia, Face Oil
Lucky Cloud Skincare, Balancing Facial Oil
MamaBare, Facial Nectar
Phytur, Veil Protective Concentrate
Robyn Skincare, Limitless Facial Oil, Anti Ageing Formula + Sytenol ® A Bakuchiol
Shades of Natural, Twilight Night Recovery Oil – Skin Revitaliser
Skin Rei'Aya, Urban Shield
Skin Rei'Aya, Moonlight Concentrate
Soap Matters, Simplicity Face Oil No.1
Soap Matters, Simplicity Face Oil No.3
Sukin, Certified Organic Rosehip Oil
The Blue Lemon, Night Serum
Whitfords, Triple Algae Glow Restoring Oil
Wild Rising Skincare, Moonlight – Smoothing face oil
Category 14, Face Care (Rinse Off)
ANI Skincare, Facial Cleanser
At1 Skincare, Deep Cleansing Balm
Dee's Organics, Petals & Clay
Dublin Herbalists, Every Day Cleansing Gel With Apricot and Carrot Seed Oils
Eco By Sonya Driver, Super Citrus Cleanser
Frances Prescott, Tri-Balm
Gamanity Health & Cosmetics, Botanical Cleanser
Glow Circle, Antioxidant Nourishing Cleansing Oil
ħanini skincare, Creativity + Expression Face Mask / Cleanser
JAYA /Just As You Are/, PM Transforming Cleansing Balm
Laponie of Scandinavia, Milk Cleanser
Lucky Cloud Skincare, Purifying 3-in-1 Cleanser + Mask
MERME Berlin, Facial Powder Cleanser with Purple Carrot
PAMOJA, Reset Cleansing Balm
Pevonia, CleanRefresh Foaming Oil Cleanser
Rhug Wild Beauty, Replenishing Mask with Rhug Honey
So27skincare, Rewind Cleanser
Sukin, Foaming Facial Cleanser
The Blue Lemon, Tea Tree Green Clay Face Wash Bar
Tilda's Tribe, Tea Tree & Charcoal Soap Bar
VERACOVA, Cleansing Foam – Pure Radiance
White Moon Skincare, Pink Clay Detox Mask
Category 15, Deodorants
Bare, Neroli & Citrus Deodorant
Cacao Pow Deo Bar, Mint Choc
Eco By Sonya Driver, Lemongrass Natural Deodorant
Kutis Skincare, Lavender & Geranium Vegan Deodorant
SELF, All Day Freshness Deo
SO Natural Cosmetics, Deodorant Liquid Gel
We Love the Planet, Forever Fresh Natural Deodorant Stick
Category 16, Problem Skin
Amaranthine, Facial Oil
Ann's Natural Range, Moisturiser RG with Rose Geranium Essential Oil
Be Natural, Whipped Body Butter
Coraline Skincare, SOS Recovery – Instant Hydration Facial Oil
éméo, Serum Alpha-lift Premium
FIERCE, FIERCE Rescue Recovery & Repair
InnerZen Organics, Overnight Elixir
Laponie of Scandinavia, Brightening Treatment
Lily & Rabbit, Coconut
LUMI, Bioklinik Moisture-Lock Toner
Lyonsleaf, Zinc and Calendula Cream
Lyonsleaf, Unfragranced Beauty Balm
Obvs Skincare, Intensive Skin Recovery Cream
Oodee, AURORA Perfecting Serum
Oodee, HALO Purifying Foaming Cleanser
Oodee, NOVA Illuminating Moisturiser
Phyt's, Anti Redness Cream (Crème Capyl)
Phytur, Calibrate Balance Face Serum
Poko, Hempsoriasis Balm
Pure Lakes Skincare, Shea Butter, Beeswax & Calendula Dry Skin Balm
SmartAss Beauty Ltd, White Gold Super Serum
SUK., Seed Your Balance – Face+Body Oil
TARAMAR, Night Treatment
The Blue Lemon, Cocoa Butter Body Butter
The Little Herb Garden, Lavender & Honey Balm
The Slippery Cauldron Soap Company Ltd, Honey Oat Soap Bar
Tilda's Tribe, Honey & Oatmeal Soap Bar
Free From Achievement
Due to the large number of entries into the Free From Achievement category, no list of finalists is published, and all entrants' products reaching the final in one of the categories (1–16) above which were additionally entered into the Free From Achievement category will be considered for this Award.
Best Labelling
Botanica Nordica
ħanini skincare
Kinvara Skincare
LaFemmeVerte
MamaBare
Odylique
Oodee
Organic Works
Palm Free (Zero-Waste) Irish Soap Ltd
Robyn Skincare
Skin Sapiens
Soak in the Elements
Best Free From Brand
All brands with at least three products in the list of Finalists, across any categories 1–16, will be considered for the Best Free From Brand award.
Best Overall Free From Product
One overall champion of the 2022 Free From Skincare Awards will be judged and chosen from all the Gold winners in Categories 1–16 above; we will also announce four or five runners-up.