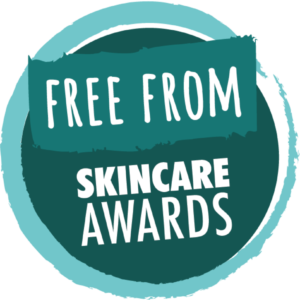 Here are just some of the many benefits of entering the Free From Skincare Awards.
Your brand will be welcomed and featured on our popular social media pages — at least two of Twitter, Facebook, and Instagram — which have many thousands of followers, boosting your media profile.
Your entries will be sent to four experienced testers for month-long assessment, and the detailed feedback we receive from them on every entry will be available to you once the Awards are over.
We'll give you award logos (Entrant, and if applicable Finalist, and then later, Winner logos) which you are free to use in your marketing and communications to share your participation and success in the Awards.
Products which reach the final will be presented to a distinguished panel of beauty / skincare experts, writers and influencers, who relish the opportunity to discover new brands at our judging sessions, and may then feature them or write about them (See last year's judging panel here).
Testers and judges regularly become new customers of products they test and judge, and share recommendations with family, friends, readers etc.
You may be featured in ongoing press coverage related to our Awards. (For a selection of previous coverage, click here).
All medal winners in all categories are featured here on our website, with extracts of tester reviews, and links to points of sale / brand websites — and these remain online indefinitely.
A selection of winning products will be showcased at our stand at any trade or consumer show at which we are able to exhibit (e.g. the Allergy & FreeFrom Show).
And, of course, you have the chance to win a Gold, Silver or Bronze 'medal' in any one of 16 product categories — as well as the prestigious Overall Winner of Best Free From Skincare Product, and other special awards — and capitalise on all the potential benefits that comes with recognition in a major, Europe-wide cosmetic and skincare award.