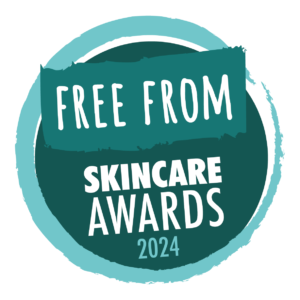 The Free From Skincare Awards were launched in 2012 to celebrate, encourage and reward the manufacture of cosmetics that are 'free from' some of the allergens, ingredients and fragrances sometimes associated with skin sensitivities and other health concerns, or personal sensibilities and preferences, and which may therefore be useful to several groups of people — those seeking more 'natural' cosmetics, those looking to avoid certain ingredients due to ethical, environmental or religious reasons, those who have sensitive or dry skin, or those with allergic or problem skin conditions such as contact dermatitis, eczema, psoriasis, rosacea and acne.
The Free From Gift Awards, for gift sets and collections, were launched in 2020, returned in 2022, and will open again in 2024.
Cosmetic products entered into the Free From Skincare Awards or included in a submitted box, set or collection for the Free From Gift Awards must meet the following criteria:
Definition
Products must meet our definition of skincare / cosmetic product, namely that of a preparation applied to the skin, hair or body for the purposes of cleaning or fragrancing, or to improve its health, condition or appearance.
More precisely, according to Article 2.1 (a) of Regulation (EC) No 1223/2009, a cosmetic product is "… any substance or mixture intended to be placed in contact with the external parts of the human body (epidermis, hair system, nails, lips and external genital organs) or with the teeth and the mucous membranes of the oral cavity with a view exclusively or mainly to cleaning them, perfuming them, changing their appearance, protecting them, keeping them in good condition or correcting body odours."
We define a 'free from' skincare product as one which is free from at least one ingredient which may ordinarily be present in a mainstream / high-street version of the product, and which some consumers may need to avoid — such as an SLS-free shower gel, MI-free shampoo, beeswax-free lip balm, or PPD-free hair colour.
Excluded Ingredients
We know that on one level, all cosmetics can be considered 'free from' something, and not all such products can be free from all the many ingredients cosmetics users may avoid.
But it is our aim, in limiting some of those ingredients we permit in the Awards, that we highlight products by brands who are perhaps offering something 'different', using alternative ingredients which are likelier to be appropriate for people who live 'free from' lives, for whom mainstream cosmetics are often unsuitable.
In selecting excluded ingredients, it is important we strike a workable balance of principle and pragmatism — the Awards must have meaning and some degree of exclusivity, but equally, they cannot be so exclusive to excessively limit participation of products which would be appropriate to many consumers.
No such list of ingredients can be 'definitive' and an ingredient's exclusion does not mean we determine it to be deserving of criticism or denigration, nor that we believe it to be unsafe. These ingredients merely represent some of the main ones many 'free from' consumers, to the best of our experience, look to avoid — be it for allergy reasons, health reasons, environmental, ethical or religious values they wish to uphold, or even just due to personal preference and taste.
Products that include any of the following ingredients are not eligible:
* Artificial fragrances (unless free of all 26 declarable fragrance allergens (see also Fragrances, below)
* Formaldehyde-releasing preservatives (eg imidazolidinyl urea, diazolidinyl urea, quaternium-15)
* Methylisothiazolinone (MI) and methylchloroisothiazolinone (MCI)
* Para-phenylenediamine (PPD) and related ingredients
* Peanut / peanut-derived ingredients (see also Food allergens, below)
* Petroleum (petrolatum) / mineral oil (paraffinum liquidum)
* Phthalates (eg diethyl phthalate)
* Sodium lauryl / laureth sulphate (SLS/SLES)
* Synthetic silicones / siloxanes and derivatives (eg dimethicone)
* Toluene / toluene-2,5-diamine (TD) and related ingredients
* Triclosan
Permitted Ingredients
The following ingredients are permitted, but credit is given to brands / products which use alternative ingredients to them:
* Ethanolamine compounds and salts (eg MEA, TEA, DEA and derivatives)
* Ethoxylated ingredients (eg ammonium laureth sulphate)
* Glycols (used for non-preservation purposes and non-plant derived)(eg propylene glycol (PG), butylene glycol (BG), polyethylene glycol (PEG) and PEG compounds)
* Palm oil (or derivatives of)
* Polyquaternium compounds
* Polymeric compounds (carbomers, acrylates)
* Synthetic organic colours (in make-up / hair dyes)
Preservatives
We appreciate preservation is a complex area of cosmetic science. Although we allow synthetically derived preservatives, products will receive credit for using wholly natural or COSMOS-approved preservation systems (eg benzoic, dehydroacetic, sorbic, salicylic acids and their salts, and benzyl alcohol, plant enzymes/acids, essential oils).
Food allergens
Peanut-based ingredients are not permitted. Only products that exclude three or more of the following other food allergens are eligible — cereals containing gluten, milk, sesame, tree nuts, soya and egg — and we usually give credit to products free from all.
Non-vegan ingredients
We accept non-vegan (and even non-vegetarian) products into the Awards, but give particular credit to brands which use vegan ingredients in typically non-vegan products — eg beeswax/lanolin-free lip balms.
Fragrances
Artificial fragrances are acceptable in the Awards, provided the quantity of any of the 26 fragrance allergens they contain falls below declarable levels. In the case of natural / botanical fragrances, such as those derived from essential oils, we prefer products to have no more than eight fragrance allergens above declarable levels. We give credit to fragrance free products or fragrance-containing products which show strong allergy-awareness.
Nanoparticles
Cosmetics containing nanoparticles must adhere to EU rules on usage and labelling. Find guidance here and here.
Availability
All products entered must be available for purchase at the closing dates of the Awards.
Products do not need to be new launches — they can be new or old!
Products entered into the Free From Skincare Awards must be available in the UK, Ireland or other EU nation, or by online order from stores or distributors based in those nations.
Products entered into the Free From Gift Awards must be available in the UK or Ireland, or by online order from stores or distributors based in either of those two nations.
Please Note: Products available to European consumers exclusively via overseas shipping from outside Europe into Europe are not eligible to participate at this time.
Ineligible cosmetics and personal products
The Free From Skincare Awards (FFSA) is for individual cosmetic and skincare items only, with some exceptions:
* sun cream / block / aftersun care is not eligible for the FFSA, but is eligible for entry into our Free From Living Awards (FFLA) (note that face and body creams with incidental SPF are accepted into the FFSA);
* oral care (toothpaste and mouthwash products) are not eligible for FFSA, but are eligible for FFLA
Pairs, sets, collections or boxes of cosmetic products — with or without sundry products — can only be entered into the Free From Gift Awards (FFGA).
The following non-cosmetic items are not eligible for the FFSA, but are eligible for the FFLA, and may additionally be entered as constituent components into the FFGA if the other specific criteria of that Award are also met:
* muscle / pain-relief / sleep aid products applied to the skin;
* insect repellents / bite care;
* household ambient products (burners, wax melts, candles, pillow sprays, room fragrance).
The following may not be entered into the FFSA (nor the FFLA), but may be entered as constituent components into the FFGA if the other specific criteria of that Award are also met:
* hairstyling, make-up, cleaning or grooming tools, such as brushes, combs, razors etc;
* any electrical equipment;
* beauty supplements, foods or tonics for oral consumption;
* dry face cloths, sponges, exfoliating mittens, loofahs etc.
Rules
Products must comply with Cosmetic Product Rules and Regulations in GB and/or equivalent regulation in the EU & NI as they apply on the closing date of the Awards, and also meet our Criteria (above).
Brand entrants are required to have their own public and products liability insurance, and in entering the Awards warrant to do so.
The organisers reserve the right to change organisational details, such as categories, without prior notice.
The organisers reserve the right to accept or reject entries; while the organisers will refund fees for entries which according to their assessments may not meet the Criteria, there may be a modest charge for doing so.
The decisions of the judging panel are final and Free From Skincare Awards are not obliged to enter into any correspondence about them.
Entrants agree not to make attempts to directly contact either testers or judges participating in the Awards, in order to influence, appeal or query any results or decisions made.
It is a condition of entry that all entrants agree to be bound by these rules, and understand clearly how the Awards are run, and what is expected of all entrants under the information laid out in the How to Enter section.