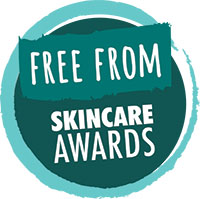 The judging process for the FreeFrom Skincare Awards is in four stages.
Stage 1
Entry forms are checked to ensure that products entered comply with our Criteria for Entry.
Stage 2
A full-size sample of each product is then sent for a month's in-depth testing of its qualities and efficacy to four experienced Beauty Bible testers / Skins Matter readers, carefully selected from a panel of over 100, all of whom either have sensitive/problem skins, specific allergies/intolerances, or are passionate about 'free from' skincare. Once the testing period is over, they fill in detailed questionnaires on each of the products, and return them to us. From this feedback, a provisional shortlist is drawn up.
Stage 3
Provisionally shortlisted products go forward to our roundtable expert panels for week-long judging sessions in June. The panel consists of beauty writers, skincare professionals, allergy experts, cosmetic formulators, and consumers with problem skin conditions or an interest in 'free from' skincare.
The judges are interested in 'free from' awareness in terms of food allergens and other ingredients, and in manufacturers' commitment to natural and skin-beneficial ingredients. Using testers' feedback, they will additionally assess qualities such as originality, formulation, innovation, aesthetic appeal, value for money and many more. Very importantly, they will judge the products' ingredient labelling for clarity, transparency and compliance — vital for any consumer with any kind of sensitivity, or seeking to avoid particular ingredients due to ethical, environmental or health concerns.
To learn more, see 'What will testers and judges be looking for?' in our FAQs.
Subsequently, bronze, silver and gold 'medals' will be decided in each category.
Stage 4
Once category winners are decided, a smaller judging panel will convene and decide on the final two key awards — that of Best Free From Brand and Best Overall FreeFrom Skincare Product — as well as the special 'FreeFrom Achievement Award'.
The results are expected to be announced online in late June.
Judges
2019 judges are listed below. 2020 judges will be revealed in May.
NB. Judges participating in the Awards or with relationships or with vested interests in any participating brands are not involved in the judging of those brands' respective categories or products.
* Galina Achkasova-Portianoi is a journalist, brand consultant, and the editor of The Curiosity Gap.
* Yanar Alkayat is a writer, digital consultant and web editor, specialising in beauty, health and fitness.
* Sue Cane is a free-from expert and long-term sufferer from psoriasis and other inflammatory skin conditions.
* Sarah Coleman blogs on natural skincare and free-from living at Sugarpuffish. She has eczema and multiple sensitivities.
* Lorraine Dallmeier is a biologist and organic cosmetic formulator, and the director of Formula Botanica — an international online organic cosmetic science school.
* Natasha Dauncey is a cosmetic formulator, and the founder of Apothaka Skincare.
* Ruth Holroyd is a writer and blogger, who runs WhatAllergy.
* Judy Johnson is a beauty and skincare journalist, specialising in sensitive skin issues.
* Katja Kokko is a Finnish natural beauty expert, formulator, and make-up artist, who edits the Genuine Beauty Book.
* Ailish Lucas, The Glow Getter, is a beauty therapist, make-up artist, and award-winning beauty blogger and influencer.
* Sara Niven is a beauty journalist and the beauty columnist for Vegetarian Living magazine.
* Sarah Stacey is a beauty expert and joint-editor of the Beauty Bible books.
* Michelle Sutton of Butterflies Healthcare is a pharmacist, and the UK distributor of long-time FFSA sponsors, NATorigin.
* Abi Weeds is the co-founder, with her mother Margaret, of Odylique (previously Essential Care).
Free From Skincare Awards team 2019:
* Michelle Berriedale-Johnson is editor of FoodsMatter.com, and overall director of all free from awards, including the Free From Food Awards and Free From Eating Out Awards.
* Alex Gazzola is the awards co-ordinator, deputy editor of SkinsMatter.com and a health writer specialising in allergies and skin health. He is the editor of Allergy Insight.
* Kirsty Mawhinney is the awards administrator. She specialises in developing of niche beauty brands for start up and established UK and international companies, and runs her own agency, Skin Insight.