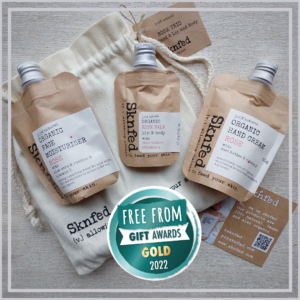 Gold
Sknfed, Rose Trio Gift Set
Components: Organic Face Moisturiser – Rose, Organic Hand Cream – Rose, Organic Rose Butter – Lip And Body
A vegan and eco-conscious trio in such an unusual format — pouches! But what made this set stand out to judges was the quality of the skincare — no compromise on standard at all, it was luxurious and beautiful, and the rose scent was gorgeous. A real winner with all.
Silver
Bare Blue, Solid Swaps Gift Box
Components: Janni Bars Satin Facewash Cleansing Bar, Janni Bars May Chang Soap Bar, Three Hills Soap Just Cocoa Solid Lotion Bar, Palm Free Irish Soap TLC Shampoo Bar, Three Hills Soap Lemon Tea Conditioner Bar, Bambooth Toothpaste Tablets, Coconut Fibre Soap Rest
A seven-item collection of products from mostly Irish-based brands, curated and assembled by another, Bare Blue. Mixed collections like this don't always work or 'gel', but the choices, judges felt, combined very well here, and clearly had the environment in mind. Items included the Palm Free (Zero-Waste) Irish Soap Ltd TLC Shampoo Bar, a Gold winner in the Hair Care category in the 2022 Free From Skincare Awards, plus a few others in original formats, such as toothpaste tablets. Many items ideal for travel or festivals, and the inclusion of a compostable soap rest was a thoughtful touch. Great!
BeeInspired Skincare, A Medley from the Bees – for those with sensitive skin
Components: Propolis Intensive Care Hand Cream, Propolis Cream, Propolis Serum, Lip Balm Stick (Fragrance Free); all in a reusable tin box. 
An ideal gift set for those wanting to bring the powers of propolis into their lives, produced by thoughtful dedicated beekeepers based in Surrey. Great price point, and available in an alternative nut-free option for those with allergies, this is a beautiful gift for both those with problem skin and others who just want to enjoy some intense moisturisation and bee-power!
Bronze
Elite herbal skin care, Aphrodite Rose Collection
Components: Body Butter (Grapefruit & Rose), Day Cream (Sweet Orange & Rose), Night Cream (Lavender & Rose), Hydrating Facial Oil (Mandarin), Cleansing Balm (Lemon & Rose)
A five-strong set of small-batch handmade products with a signature of rose running through them, and which also utilise the power of hemp oil! Excellent labelling, the judges thought (with emphasised fragrance allergens), and a good price point given the number of products included. Good sturdy box too.
Lyonsleaf, Natural Skincare Solutions 04
Components: Unfragranced Beauty Balm, Zinc & Calendula Cream, Muslin Face Cloth, Face Flannel
A compact but fully packed box of two Lyonsleaf favourites — which between them have won multiple medals at the main Free From Skincare Awards over the years. The thoughtful addition of two (different) cloths really elevate this to a 'proper' gift, which also works well as a stocking filler. Ideal for the Lyonsleaf fan, or anyone with sensitive skin in need of a fragrance-free treat.