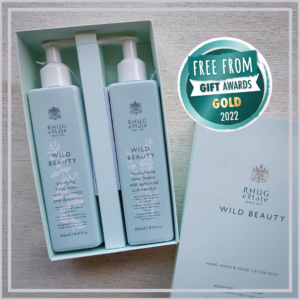 Gold
Rhug Wild Beauty, Hand Wash & Hand Lotion Duo in Gift Box
Components: Purifying Hand Wash (with corn mint and dandelion) and Moisturising Hand Lotion (with apricot oil and heather)
A beautifully elegant duo in a chic box, which happens to be made from recycled card: delightful products, both of which include wild foraged ingredients from the Rhug Estate. A gift set which anyone could enjoy and be left feeling very special indeed.
Silver
BeeInspired Skincare, A Medley from the bees – for peaceful nights
Components: Peaceful Night Cream (with magnesium, lavender and vetivert), Silk Hand Cream (with lavender), Soft Foot Intensive Cream (with jasmine, lavender and tea tree oils) 
A very cute trio of creams for a restful night-time routine: relaxing, pleasurable and attractive in a reusable tin. Foot massage with the Intensive Cream can really help tired tootsies and maximise shut-eye!
Eira Soaps, Festive Gift Set
Components: Body Butter and Soap Bar, both peppermint scented

Great whip on the body butter and nicely embossed soap. Perfectly fitting in their festively wrapped slide-out card box, this is a really sweet, nicely presented gift pairing for the mint fan of either sex!
The Good Zest Company, Organic Lime & Bergamot Gift Box
Components: Organic Everyday Lime & Bergamot Shampoo, Organic Lime & Bergamot Conditioner, Organic Handmade Lime Zest Soap, Organic Lime & Bergamot Body Wash, Natural Bamboo Exfoliating Soap Bag
A very generous collection of products for the citrus-scent-lover of either sex. The soap bag is great — as is the value of this gift! With its large size box, it would look excellent and promising under a Christmas tree.
WELEDA, Refresh Your Senses Gift Set
Components: Citrus Refreshing Body Lotion and Citrus Refresh Creamy Body Wash
A zesty gift set duo of Nature-certified products! Fragrances of both products were widely admired by judges, and the beautifully educational card included in the box was highly regarded too. Excellent value, and definitely 'sense refreshing'!
Bronze
Elave Skincare, Elave Derma Skin Essentials
Components: Elave Sensitive Body Wash, Shampoo, and Body Lotion

A very good value fragrance-free trio: a no-nonsense collection which is so affordable, generous, and ideal for those with problem skins. Presentation good too: good branding, paper and box, and good free-from labelling on products too.
Made By Coopers, 'Sleepy Head' Sleep Kit
Components: Sleepy Head pillow spray (lavender, frankincense and chamomile), Sleepy Head Bath Salt Blend and Sleepy Head Beauty Balm (both lavender and frankincense)

All components were delicately and pleasantly fragranced, with good containers, safely packaged in their box. A nice collection: and we were pleased to spot some free from labelling too!
Rose and Mary Cosmetics, Luxury foot soak gift set
Components: Relaxing Lavender foot soak and Soothing Peppermint foot soak

Original and likeable box. A gift set with an appealing rustic feel: two jars of very simple formulation products, which is great for 'free from' consumers who enjoy essential oils. A great treat for feet.
Silvan Skincare, Hands and Feet Gift Set
Components: Marshmallow and Calendula Hand cream and Pawpaw and Calendula Foot cream

Lovely fragrances to both cosmetic components, which were very smooth and well formulated creams. A caring little gift pairing.
The Wild Nettle Co, Hair Lover Bundle Gift Set
Components: Hair & Scalp Oil, Shampoo Bar, and 100% Natural Bamboo Comb

Very sweet little stocking filler, and an unusual hair care gift, perhaps suitable for someone with problem scalp. The addition of a comb is a thoughtful extra touch which elevated the gift and really makes a difference.