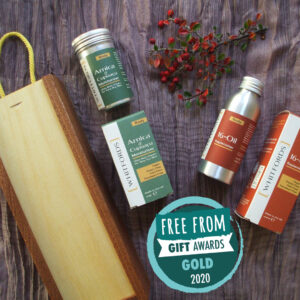 Gold
Whitfords (entered Christmas Gift Box — Body)
Judges' Assessment:
100% plastic free skincare, sold in reusable and recyclable aluminium jars … Almost all Whitfords packaging is made in UK … A partner of One Tree Planted: one tree is planted for every product sold … Wooden boxes made using offcuts from the other family business of furniture making, so no new timber was machined to create them … The electricity used in the Whitford's cosmetics studio — an FSC-certified wooden hut with green water-collecting roof! — is UK generated and renewable … In looking for a brand entrant deserving of the Eco & Green gift award, we were keen to look beyond those many brands avoiding petroleum and plastic towards those getting involved in additional initiatives or going the extra mile to be environmental in original ways. We found that with Whitfords, in particular! 
Silver
Bee Pure Products (entered Natural Beauty Box)
Judges' Assessment:
A truly zero-waste box …. Beekeepers themselves, Bee Pure Products use beeswax-based / ethically sourced ingredients … The entire gift box is 100% plastic-free, with fully compostable containers even down to the biodegradable hemp tape used instead of ribbon … Impressive! 
Emma's Soap (entered The Sustainable Wellbeing Bag and The Eco Box)
Judges' Assessment:
Lots of little careful details were noted which are sustainable and ethical … bars are wrapped in organic Fair-trade cotton … sustainable olive-wood soap dish … ramie washcloth in crocheted nettle … gift box of 76% recycled card / 24% FCS-certified … all packaging can be reused or composted … a bamboo massage brush with coconut bristles … environmental sustainability seems to underpin every choice made by this brand, and it comes through clearly in their products. 
The Great British Bee Co (entered Festive Hexagon Hand Care Gift Set)
Judges' Assessment:
Another brand supporting bees wonderfully well, both keeping their own and sourcing products from others, and funding UK honey bee research with funds raised … all UK sourced … recycled or recyclable packaging … Nailbrush is plastic-free (FSC Certified wood and tree root bristles) … even the Xmas decoration in the set is FSC certified wood … and original hexagonal box handmade by an 80-year-old craftswoman … a striking eco gift! 
Lyonsleaf (entered multiple sets, including Mum & Baby Skincare Survival Kit, Natural Skincare Solution 03 and Natural Skincare Solution 04)
Judges' Assessment:
As Lyonsleaf rightly say, their concentrated formulas encourage sparing use and 'tight' packaging helps further minimise costs such as transport … Herbal ingredients grown on the Lyons' own farm … A brand focused on carbon footprint-reduction; they use solar panels at their farm … prioritise suppliers who work with an eco conscience … Use compostable packaging (card, paper packing tape, corn starch packing chips) … They support charities (such as The Rainforest Trust) … It's the attitude of Vicky and Ben that appeal to judges: they are committed to keep improving and looking for solutions which are even greener. 
Bronze
BrambleWood Soap Co (entered The Botanical Gift Set)
Judges' Assessment:
100% plastic free and biodegradable gift … Bramblewood are working with a non-profit environmental charity to ensure more trees are planted than were used to produce the box the gift came in … Handmade in the BrambleWood kitchen, wrapped in biodegradable wood wool and scattered with botanicals grown in the BrambleWood garden … Have a policy of reusing boxes … Some good eco qualities, all in all! 
Nereus London (entered Hair and Body Care Set, Shampoo and Conditioner Set and Full Hair and Body Care Set)
Judges' Assessment:
100% plastic-free brand with the aim of combining luxury beauty with sustainability … a partner of Plastic Bank (every bottle purchased equates to 1kg plastic prevented from polluting the world's oceans via PB) … aluminium bottles and tops infinitely recyclable … labels made from biodegradable materials, and delivery boxes made from recycled material that are fully recyclable … It was the 'luxury without plastic' aspect that caught the judges' eye with Nereus London!