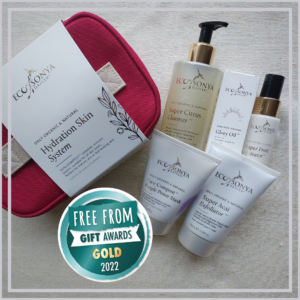 Gold
Eco By Sonya Driver, Hydration Skin System
Components: Super Citrus Cleanser, Super Acai Exfoliator, Super Fruit Hydrator, Face Compost Purple Power Mask, and Glory Oil; Cyan cosmetic bag (made from recycled plastic)
With five full-size high-performing products (four of which have won medals in previous editions of our main Free From Skincare Awards), this represents excellent value for money, and the luxury bag impressed judges too. Well thought-out outer wrap label: quite a feat to get all ingredients and the 'step' explanation onto it. Distinctive, and a real treat for skin — and the owner of that skin!
Silver
Blue Labelle, Moroccan Spa Set
Components: Rhassoul Lava Clay Powder (Moroccan Lava Clay); Argan Oil with Rose Oil, Rose Water, Organic Cotton Face Flannel, Hand-painted Ceramic Bowl, Eco-wood Bamboo Spoon, Bamboo Treatment Brush; all in a gift box. 
Well-thought out and attractive gift set, with lots of promising components to facilitate an at-home Moroccan spa experience! Appealing products, lovely face mist in particular, thought our judges, and attractive re-purposeable bowl …. All-in-all a wonderful gift which was challenging for the Gold in this category!
Green People, Be Kind
Components: Scent-Free Cleanser, Day Moisturiser and Eye Cream
Fragrance-free and high-quality skincare products are so important to our readers, and Green People have been doing it exceptionally for many years. People with sensitivities to essential oils deserve luxury too, and this collection certainly succeeds in 'Being Kind' to both them and their skin. A genuine treat.
La Femme Verte, Geranium Rose & Petitgrain Limited Edition Trio
Components: Geranium Rose & Petitgrain Radiance Day Cream, Geranium Rose & Petitgrain Nourish and Glow Joyous Facial Serum, Geranium Rose & Petitgrain Gentle Oil to Milk Cleanser with Golden Jojoba, Face Brush, Marimba Mint Chocolate 'Bar Humbug'
This brand debuted in our main Free From Skincare Awards in 2022, and took a Bronze with their Radiance Day Cream, included in this set. Also present are a cleanser and serum, and a gentle face brush — and some chocolate! Thoughtful extras like this really made a difference, our judges felt, and elevated this collection further. Designed with women either in the peri or menopause stage in life in mind, this is another winner from the sister duo at LFV!
Tropic Skincare, OCEAN TREASURE facial favourites collection
Components: Smoothing Cleanser, Juicy Greens Toning Essence, Skin Feast Moisturiser, Skin Dream Night Cream, Rainforest Dew Hydration Serum, Super Greens Nutrient Boost Oil, Bamboo Cloth; all in a large, beautiful aquamarine 'coral' tin.
The variety here is terrific, and this was one of the few facial gift sets submitted to contain a toner, which certainly earned Tropic some brownie points. The dinky oil and serum bottles were a delight, and there were decent sizes of all the other facial favourites too. It's a very good value for money collection, with lots to enjoy and discover. 10% of profits are donated to Reef Restoration Foundation, and the tin is extremely striking, and reusable. Wonderful.
Bronze
AEOS, Starter Kit Blue
Components: 3ml sample sizes of Cleansing Oil dé-Maq, Dew Facial Wash, Gentle Cleansing Lotion Blue, Gentle Exfoliant Blue, Energising Conditioner, Refreshing Hydrating Mist, Realive Serum and Enriching Moisturiser Blue.
Such an affordable collection of some of AEOS's finest products, including former Free From Skincare Awards Gold Winner Realive Serum, and multiple previous medalling Cleansing Oil dé-Maq. Brilliant way to trial-before-buying, and beautifully and elegantly presented in slide-out box and sleeve.
Aura-Lotus, Matte Lip Bloom & Lip Seed Set
Components: Matte Lotus Lip Bloom lipstick, Third Eye Lip Seed pencil. 
A really good value bright-pink make-up duo which judges were chuffed to see in the Awards! Vegan and mostly natural mineral pigment-based. The Lip Seed comes in seed paper packaging to plant. A fun pairing.
Bowe Organics, Get Glowing Face Mask Starter Kit
Components: Get Glowing Face Mask, Bamboo Spoon, Mask Applicator Brush, Two Organic, non-bleached, muslin cloths, Handmade ceramic mixing bowl
Nicely assembled kit with good attention to detail and attractive red box too. The unique mixing bowl (supporting a business local to Bowe) is an original touch. Compostable refill masks are available too. A lovely gift.
DeDANÚ, CryoGlow Facial Set
Components: Two cryglobes (surgical stainless steel and plant based gel globes for facial massage); Renew+ Facial Oil (with jojoba, camellia seed, sweet almond and other oils)
What a visually stunning and original set. The cryoglobes are chilled to enable the power of 'ice therapy' and the uptake of plant actives from the potent oil. Dramatic, unique and smartly executed.