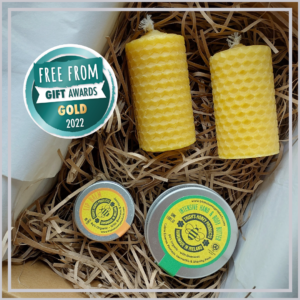 Gold
Trishs Honey Products, Bee Gift for Sensitive Skin
Components: Intensive Hand & Body Butter, Lip Balm, 2 x Beeswax Candles
A simple and lovely collection of four products — two family-friendly and fragrance-free skincare products, both with very few ingredients, which impressed judges due to their smooth textures, and two 'clean' and natural pure beeswax candles with candle wicks.
Silver
BeeInspired Skincare, A medley from the bees – especially for men
Components: Fab Face Cream and Natural Soap, both in bergamot sandalwood and pine, unscented lip balm, reusable tin
Beautifully packaged in a compact tin, attractive design, and a great alternative Christmas gift for men who like grooming, enjoy lightly masculine woody scents, and also care about bees and the environment.
Bronze
BISOUS by L'ORGANIQ, Face and Body Duo Gift Bag
Components: Clear and Bright Face Wash, Happy Days Body Wash, Reusable Marine Blue Cotton Bag
Beautiful coloured bag, deep aquamarine, with two generously-sized toiletry gifts, gentle and ideal for teens of either sex, which would make a terrific stocking filler for young people concerned about their skin.