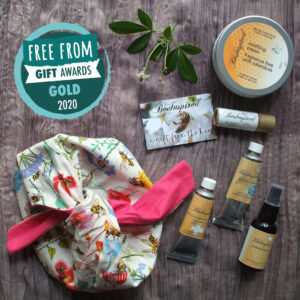 Gold
BeeInspired, Care Package for Sensitive Skin
Comprising: Calendula cream, Intensive Care Hand Cream, Propolis Cream, Propolis Tincture, Lip Balm. Presented in a hand made lined tie bag.
"Really pleased when I opened the gift … liked the bright, pretty fabric and magenta / teal colour scheme … Loved the 'with love from the bees' gift-tag … A lovely gesture … My hero products are the Lip Balm, Hand Cream and Calendula Cream — could not speak more highly of these: they are family-friendly and they work … have been a life saver for me in Covid days … My little girl is now rash free, honestly a miracle … Love the story behind the brand too, and the love for the bees and their incredible natural gifts to us shines through … I would be super happy to receive this as a gift in future … Products are concentrated so you need the tiniest amount, they last ages, and I love the fact that whether you need a calming soothing moisturiser, a sore throat spray, something for nappy rash, to soothe allergies, a blister, a bite, or a sting, it is all here in one beautifully packaged packet: a complete family first aid kit in one place but also fabulous hydrating products that more than deliver results."
Silver
Kokoso Baby, Fragrance Free Christmas Collection
Comprising: Coconut Oil Baby Lotion; Gentle Hair & Body Wash; Baby-Soft Balm Stick; Organic Coconut Oil; Natural Baby Hairbrush; Natural Baby Bath Sponge
"Lovely good quality box … Balm is a lovely texture and a great idea, very hand size for a nappy bag, and stick application means you can do a swipe and not get covered yourself …  lovely slight smell to the lotion (although fragrance free), and absorbed well into baby skin, but not so quickly that you couldn't give a little massage at the same time … sponge a little rougher than some baby sponges, but great to use when baby a little older, and the string is a fantastic idea to hang it to dry properly … coconut oil created a nice protective layer … Would have been happy to receive this when pregnant, as I would have felt fully prepared, as the items cover all skin care needs"
Lyonsleaf, Mum & Baby Skincare Survival Kit
Comprising: Beauty Balm; Zinc and Calendula Cream; Calendula and Marshmallow Balm; cotton flannel
"The gift set came in a small and compact cardboard box, tightly packed with products ….  very versatile and I was really excited to try them out in different ways … decided to use the beauty balm as a cleanser and moisturiser on myself as suggested on the box. I was amazed at the results; had such a dramatic effect on my skin … left my cheeks feeling supple and overall my skin felt very nourished. I was also amazed at the long lasting effect it had on my skin … 17 month old daughter was very comfortable having calendula and marshmallow balm applied to her eczema skin, and rashes now gradually fading … zinc and calendula very soothing on families skin … Such a lovely little gift set for new mums, in many ways more useful than traditional baby gifts of clothes and toys"
NESSA Organics, Skin & Hair Saviours Gift Set
Comprising: Nipple SOS; Scar Saviour; Crowning Glory
"A beautiful little box of joy, I was overwhelmed by how lovely the presentation of the box is – minimal but beautiful colours … all products smell divine; Nipple SOS extremely handy and a little goes a long way, soothing and calming irritation, definitely my favourite … Scar Saviour applies well to skin; has lessened my scars … I enjoyed putting products back in their cute little boxes inside the box after each use – I found it quaint and neat … I've never used anything as luxurious as this before and every new mum deserves a great gift like this …. they are high quality products and made me feel amazing using them … My best friend is expecting a baby soon and I would absolutely love to gift her this adorable gift set as I know she wouldn't treat herself as she will put her family before her"
Bronze
BeeInspired, Happy Nappy Cream in a Handmade Snuggle Cloth Wrapping
Comprising: Happy Nappy Cream; snuggle wrap
"There was love and care put into this product … This cream definitely did its job … My baby's bottom has not got sore since using this, it has completely healed and protected it, and the cream has not ruined or stained our cloth nappies either … Normally she would scream in a bit of pain from her sore bottom being washed and changed, but using the BeeInspired cream she has not once cried when it has got sore … The ample-sized tin was wrapped in the most darling little keepsake comforter with little ducks on it and a ribbon keeping it in place … Absolutely fabulous product"
Locks in Goodness, Natural Hairstyling Gift Set
Comprising: Hair smoothie; Hair Gel; Bamboo brush; four scrunchies
"My daughters were very excited to receive the box and loved the magnetic fastening on the box … a very colourful arrangement of hair gifts. The girls immediately were drawn to the hair scrunchies in lovely bright pinks and purples and the beautiful wooden brush and then the lovely packaging of orange tissue paper and hot pink paper packaging which they immediately carted off to their craft box … I was really impressed with the gift as it appears that a lot of effort has gone into making the present both exciting and practical with children in mind … Detangle and Smooth product is great. All my girls liked it on the mid lengths of their hair as it really helps with tangles and doesn't leave the hair greasy … A lovely set"
Lyonsleaf, Skin Saviour Super Set
Comprising: Beauty Balm; Body Butter; Calendula Cream, Zinc and Calendula Cream; Calendula and Marshmallow Balm; muslin cloth.
"The products are great, I love Lyonsleaf … The balm we use on our son is amazing … I also especially enjoyed using the beauty balm too … My mother in law said that the Zinc and Calendula Cream has helped soothe her skin too … My son's eczema is always less angry after treatment, my mother in law's rosacea improved and my skin felt smooth and nourished after using the beauty balm … muslin cloth was lovely and soft and wonderful to use on my skin … it's good to be able to gift on some of the little pots to others who could benefit"