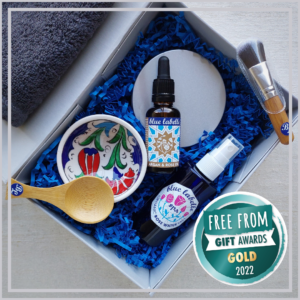 Gold
Blue Labelle, Moroccan Spa Set
Components: Rhassoul Lava Clay Powder (Moroccan Lava Clay); Argan Oil with Rose Oil, Rose Water, Organic Cotton Face Flannel, Hand-painted Ceramic Bowl, Eco-wood Bamboo Spoon, Bamboo Treatment Brush; all in a gift box. 
Well-thought out and attractive gift set, with lots of promising components to facilitate an at-home Moroccan spa experience! Appealing products, lovely face mist in particular, thought our judges, and attractive re-purposeable bowl …. All-in-all a wonderful gift which deserved a Gold after narrowly missing out in the Face Care category!
Silver
DeDANÚ, CryoGlow Facial Set
Components: Two cryglobes (surgical stainless steel and plant based gel globes for facial massage); Renew+ Facial Oil (with jojoba, camellia seed, sweet almond and other oils)
What a visually stunning and original set. The cryoglobes are chilled to enable the power of 'ice therapy' and the uptake of plant actives from the potent oil. Dramatic, unique and smartly executed.
La Femme Verte, Geranium Rose & Petitgrain Limited Edition Trio
Components: Geranium Rose & Petitgrain Radiance Day Cream, Geranium Rose & Petitgrain Nourish and Glow Joyous Facial Serum, Geranium Rose & Petitgrain Gentle Oil to Milk Cleanser with Golden Jojoba, Face Brush, Marimba Mint Chocolate 'Bar Humbug'
This brand debuted in our main Free From Skincare Awards in 2022, and took a Bronze with their Radiance Day Cream, included in this set. Also present are a cleanser and serum, and a gentle face brush — and some chocolate! Thoughtful extras like this really made a difference, our judges felt, and elevated this collection further. Designed with women either in the peri or menopause stage in life in mind, this is another winner from the sister duo at LFV!
Bronze
Rose and Mary Cosmetics, Luxury foot soak gift set
Components: Relaxing Lavender foot soak and Soothing Peppermint foot soak

Original and likeable box. A gift set with an appealing rustic feel: two jars of very simple formulation products, which is great for 'free from' consumers who enjoy essential oils. A great treat for feet.