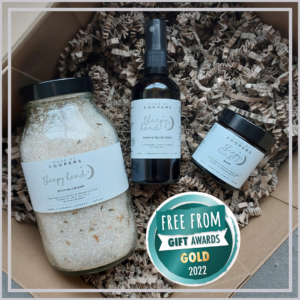 Gold
Made By Coopers, 'Sleepy Head' Sleep Kit
Components: Sleepy Head pillow spray (lavender, frankincense and chamomile), Sleepy Head Bath Salt Blend and Sleepy Head Beauty Balm (both lavender and frankincense)

A three-step programme to help you prepare for — and enjoy — a night's sleep. All components were delicately and nicely fragranced, with good containers, safely packaged in their box. A nice collection: and we were pleased to spot some free from labelling too!
Silver
BeeInspired Skincare, A Medley from the bees – for peaceful nights
Components: Peaceful Night Cream (with magnesium, lavender and vetiver), Silk Hand Cream (with lavender essential oil), Soft Foot Intensive Cream (with jasmine, lavender, tea tree)
A thoughtful selection of creams, which Alison of BeeInspired says she specifically chose to help relax and prepare for a peaceful night's sleep, with foot massage, and a pre-night treat for hands, plus night cream. Perfect for someone who needs help to wind down, and also likes the intense moisturisation that comes with these potent products in a tube.
Bronze
Silvan Skincare, Soothe Gift Set
Components: Sleep Balm, Soothe Body Oil, organic cotton drawstring bag
Oat, lavender and chamomile just sound as though they were meant for sleep don't they? That's what you'll find in the Silvan sleep balm, which judges found very soothing. The body oil can be used as a bath oil if that's your thing before bed-time — it's rich in sandalwood, mandarin, papaya and apricot — which can also be used as a massage oil. Serenity guaranteed with this little pairing, we think. Lovely.