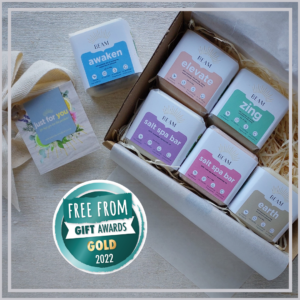 Gold
BEAM natural body care, Six half sized luxury soap gift set
Components: Six small (55g) handmade soap bars, each with a different fragrance
Attractive, well-presented gift set of square mini-soaps, whose size make them especially useful for travel, gym and for people with reduced manual dexterity. Pretty in their box and each an individual: £1 from every sale goes to a breast charity too!
Silver
BrambleWood Soap Co, Festive Editions Gift Bag
Components: Two botanical soaps (cinnamon & orange / frankincense and myrrh) in a gift bag, tied with a porcelain Christmas mini-tree
Exquisitely beautiful botanical soaps, perfectly scented for the yuletide season, and the mini Xmas tree was a nice thoughtful touch to elevate the gift bag further. Seasonal and lovely.
North Devon Soap, Bathroom Basket (Made in Devon)
Components: Three sea-themed soap bars, hand-woven basket (buff willow), hand-knitted silky face cloth (vegan)
Intoxicating lemongrass / eucalyptus fragranced soaps, with various swirl patterns representing different phases of sea movement (eg tides, swell), liked by all judges. Deeply coloured and no sign of artificial colours too!
Bronze
Todburn Soaps, A Little Treat Gift Box
Components: Sweet Orange & Marigold Goats Milk Soap, Uplifting Goats Milk Soap, Cocoa Butter Lip Balm, Handmade Face Cloth
A versatile gift set, for anyone who would like to enjoy the benefits of goats milk soaps, including the Uplifting Soap (which medalled in the Free From Skincare Awards 2022). A beautifully soft cloth was a delight, and the lip balm added a further thoughtful extra to an otherwise 'all soap' gift. Lovely company too.