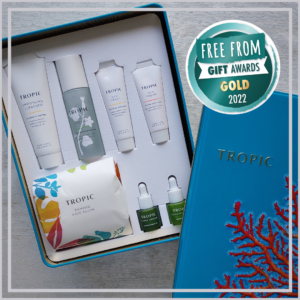 Gold
Tropic Skincare, OCEAN TREASURE facial favourites collection
Components: Smoothing Cleanser, Juicy Greens Toning Essence, Skin Feast Moisturiser, Skin Dream Night Cream, Rainforest Dew Hydration Serum, Super Greens Nutrient Boost Oil, Bamboo Cloth; all in a large, beautiful aquamarine 'coral' tin.
The variety here is terrific, and this was one of the few facial gift sets submitted to contain a toner, which certainly earned Tropic some brownie points. The dinky oil and serum bottles were a delight, and there were decent sizes of all the other facial favourites too. It's a very good value for money collection, with lots to enjoy and discover. 10% of profits are donated to Reef Restoration Foundation, and the tin is extremely striking, and reusable. Wonderful.
Silver
Sknfed, Rose Trio Gift Set
Components: Organic Face Moisturiser – Rose, Organic Hand Cream – Rose, Organic Rose Butter – Lip And Body
A vegan and eco-conscious trio in such an unusual format — pouches! But what made this set stand out to judges was the quality of the skincare — no compromise on standard at all, it was luxurious and beautiful, and the rose scent was gorgeous. A real winner with all.
The Good Zest Company, Organic Lime & Bergamot Gift Box
Components: Organic Everyday Lime & Bergamot Shampoo, Organic Lime & Bergamot Conditioner, Organic Handmade Lime Zest Soap, Organic Lime & Bergamot Body Wash, Natural Bamboo Exfoliating Soap Bag
A very generous collection of products for the citrus-scent-lover of either sex. The soap bag is great — as is the value of this gift! With its large size box, it would look excellent and promising under a Christmas tree.
Bronze
BISOUS by L'ORGANIQ, Face and Body Duo Gift Bag
Components: Clear and Bright Face Wash, Happy Days Body Wash, Reusable Marine Blue Cotton Bag
Beautiful coloured bag, with two generously-sized toiletry gift, gentle and ideal for teens, which would make a terrific stocking filler for young people concerned about their skin.
Eco By Sonya Driver, Hydration Skin System
Components: Super Citrus Cleanser, Super Acai Exfoliator, Super Fruit Hydrator, Face Compost Purple Power Mask, and Glory Oil; Cyan cosmetic bag (made from recycled plastic)
Our most expensive entry, but with five full-size high-performing products (most of which have won medals in previous editions of our main Free From Skincare Awards), this represents excellent value for money, and the luxury bag impressed judges too. Excellent outer wrap label: quite a feat to get all ingredients and the 'step' explanation onto it. Distinctive, and a real treat for skin — and the owner of that skin!
ME-TIME THERAPIES, Self-Care Wellbeing Kit
Components: Orange Blossom (Neroli) Water, French Green Clay, Whipped Vegan body butter, Organic Cotton Muslin Cloth, Link to exclusive access to Hand Reflexology video, Links to exclusive access to 2 Mindfulness Meditations
Original and thoughtful set, very well presented and very personal too. The video / meditations are genuinely original extras. Terrific value. An ideal gift for someone who has perhaps had a tough time in 2022, in order to enjoy some personal self-care, self-love and calm.
Silvan Skincare, Hands and Feet Gift Set
Components: Marshmallow and Calendula Hand cream and Pawpaw and Calendula Foot cream

Lovely fragrances to both cosmetic components, which were very smooth and well formulated creams. A caring little gift pairing.